現在来日中のハンガリーを代表するダンサーのBatarita (バタリタ)が、なんとぼくの誕生日に合わせて奈良にも来てくれます。そこで急遽、Bataritaと田中誠司による即興ダンスパフォーマンスを行わせていただくことになりました!彼女との共演は東京でのセッション以来、約3年ぶりです。こうして奈良で再びデュエットできることは、ダンサーであることの大きな喜びです。直前のお知らせとなりますが、みなさま、ぜひぜひお越し下さいませ!!



『Batarita & 田中誠司 即興ダンスパフォーマンス』



日時:2月23日(日)18:30開場、19:00開演
場所:田中誠司舞踏スタジオ
住所 : 奈良県奈良市右京3丁目19-2 2F
料金:1500円 (終演後、ささやかなパーティーを行います。ご参加くださる方は別途500円を頂戴します。)
お問い合わせ:電話番号 : 080-5473-4690
メール : seijitanaka1977@gmail.com ※お席に限りがございますので、観覧ご希望の方は、お早めにご予約をお願いします。 田中誠司舞踏スタジオ

-Batarita&Seiji Tanaka Improvisation Dance Performance-
23th February 2014 18:30 open 19:00 start
Fee: 1500yen
Place:Seiji Tanaka Dance Studio ※The nearest station is Takanohara station of Kintetsu Kyoto line.5 min on foot from the station.
Address : 3-19-2,Ukyo,Nara-shi,Nara,631-0805, Japan
Information: 080-5473-4690 Mail : seijitanaka1977@gmail.com ※Reservations are required.
Seiji Tanaka Dance Studio

Batarita (バタリタ)
ハンガリーのコンテンポラリーダンス界で定評のあるダンサーで振付家。舞踏をカルロッタ池田、室伏鴻、吉岡由美子、玉野黄市、各氏から学ぶ。03年、作品「Yours…!?」がカリシュ(ポーランド)国際コンテンポラリーダンスフェスティバルで最高賞を受賞。現在も、ヨーロッパ、アジアを中心に世界各国で公演やワークショップを多数行っている。
http://batarita.weebly.com/

田中誠司
舞踏家
1977年奈良市生まれ。大野一雄舞踏研究所(横浜)にて、大野慶人に師事。以来、日本、ドイツの劇場、イベントなどで、ソロ、デュエットともに精力的に公演を続ける。2011年5月、日独交流150周年記念の一環として招待を受け、デュッセルドルフ舞踏フェスティバル「Ghost- Deep soul. Death bears life」に出演し、好評を得る。2011年2月、郷里の奈良に「田中誠司舞踏スタジオ」を開設。

Batarita has graduated as a coreographer at the Hungarian Dance Academy and now she is one of the artist of National Dance Theater in Hungary. In 1998 she established her own company under the name Batarita Dance Company.
The Batarita's art is strongly insipred by cultures of the Far-East, particularly by the avantgarde Japanese style, butoh. Her dance levitates on the metaphysical level, characterised by the flows of energies and the emotionful acting.
She has been awarded international performing art and choreographer grants by DanceWeb (Aus), Asia-Europe Foundation (Jpn), Unesco (Th), Foundation Royaumont (France), the Uchida Fellowship of the Japan Foundation (Jpn) and CPI-SIDance (Kor).
In 2009 she has debuted as opera director at the Hungarian National Opera House.
She was the initiator of International Performing Arts Festival in Budapest in 2009 and currently she is the director and one of the curators of the bi-annual festival and its touring program in Bratislava and Krakow.
In 2013 she got the "Paralell Culture" life achievement award (Hun).

Seiji Tanaka
He was born in Nara, Japan in 1977.
Since 2006 he has studied under Yoshito Ohno in Yokohama.
In 2007, he made a photo-collage of Kazuo Ohno and Yoshito Ohno's daily life titled "Sehnsucht." It was shown at the Kazuo Ohno festival, Yokohama and at the New York Japan Society, Sao Paulo. This work is also documented in the dvd: Kazuo Ohno Flower/ Yukio Nakagawa An Offering to Heaven.
In 2008, he performed "Shindatenshi" in the church of Sommerrain in Stuttgart .
In 2009 ,he choreographed and performed in the duet, "Dream of the Death" at the Worsal Theatre in Tokyo.
In 2010 ,he performed a solo "Remember" as a part of the Tokyo Performing Art Market at the Terpsichore theatre in Tokyo.
In 2011,
May, Düsseldorf: Butoh-Festival "Ghost-Deep soul.Death bears life"
http://backraum.schaeferart.eu/home/termine/
June,he performed a solo "silent silence" with Viola da gamba players (Miyoko Ito and Kentaro Nakata) at Fellbach city office Main hole in Germany.
In 2012, February,he performed a solo "Mother-Son" at the Onjokan in Nara.
In 2013,April,he performed a solo "Seiji Tanaka butoh performanse at ancient tomb" at The ruins of onjyogadani tile kiln in Kyoto.
June,he performed a solo with a Pianist(Keiko Higashi) and a Photographer (Masaru Mizushima)"AINOGENSYO"at Naramachi Center in Nara.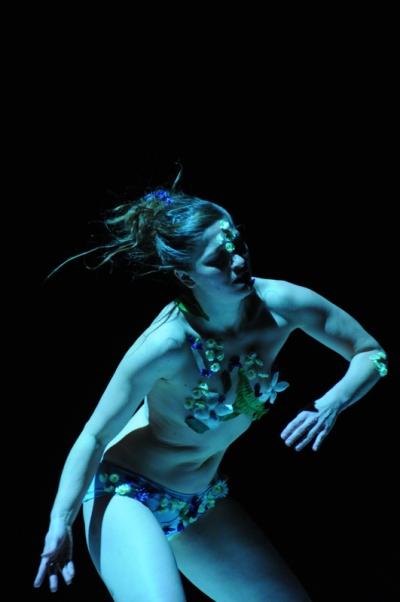 Batarita
Seiji Tanaka